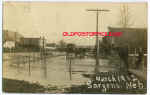 (1) Real Photo. Downtown Sargent, Neb.
March 1912. Flooded area in Street. A
large enclosed wagon of some type in the
background with many people standing
around it. Card was mailed in 1912.
Good condition, no creases.
$45 ($36).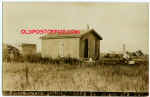 (2) Real Photo. W.O. Livermore getting ready to mow 150 tons. Back of card has period ink writing: Weldon Livermore -Sargent, Nebr. A man sets on a wood box with hay or alfalfa cutting implement. A crock jug corked with what looks like a corn cob sets on the step of the shack.
$39 ($31).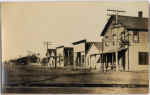 (3) Real Photo. No. 24, Street Scene, Sargent,
NE c1909. Image is sharp in focus with good
contrast. Card was never mailed. Back of
card is stamped: J.J. Warta, M.D. & Druggist,
Sargent, Neb. $49 ($39) SOLD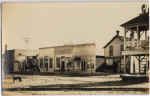 (4) Real Photo. No. 5, Street Scene, Sargent,
NE c1909. Image is sharp in focus with good
contrast. Card was never mailed. Back of
card is stamped: J.J. Warta, M.D. & Druggist,
Sargent, Neb. $45 ($36) SOLD